Recipes
Posted on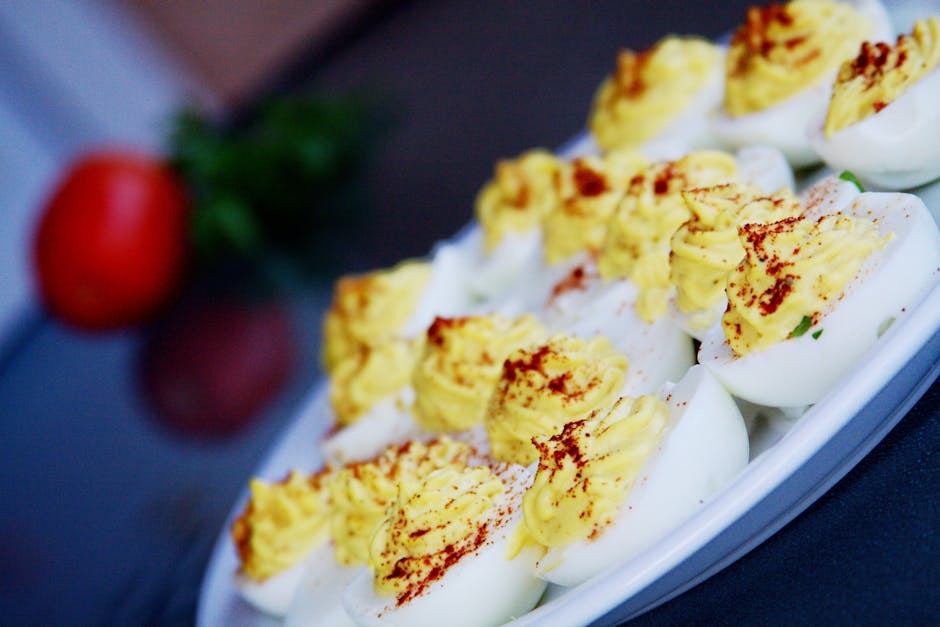 Ingredients:
6 large eggs

3 tablespoons of greek yogurt, 1/4 cup if you prefer it more creamy

1 half to full teaspoon of either Black or White Truffle oil (depends on how strong you want it!)

2 tablespoons of chives, finely chopped

1 tablespoon of garlic powder

Salt and pepper to taste

Preparation:
Place eggs in large sauce pan. Cover with water by one inch, cover with lid and bring water to a boil. Cook until yolks are set, about 6-8 minutes. Once they're done boiling, transfer to a bowl with ice and water to stop the cooking process. Peel the shells off and cut eggs in half lengthwise. Transfer the yolk to a mixing bowl add the greek yogurt, garlic powder, chives, salt, pepper and truffle oil to bowl and mash until smooth. Add yolk mixture in to a ziplock bag or piping bag with the corner snipped off. Place eggs on a dish and squeeze mixture into the eggs evenly. Garnish with paprika or chives.
INGREDIENTS: 2 pounds carrots4 tablespoons Kerrygold Unsalted butter4 garlic cloves, minced3-4 tablespoons of Honey Ginger White BalsamicSalt and pepper to tasteFresh parsleyDIRECTIONS:Preheat your oven to 425°F (220°C). Lightly oil a baking sheet and set aside. Quarter the carrots lengthwise, keep them attached near the base of the stem. This will help them cook faster. Melt butter [...]
Ingredients: 2 fresh peaches 4 Roma tomatoes 4 oz of Mozzarella Fresh BasilPreparation:Slice peaches, tomatoes and mozzarella cheese. Arrange salad and add basil leaves. Season with salt and pepper, drizzle SABA over the salad and serve.
1 seedless watermelon1/4 cup of lime juice3 handfuls of ice2-3 tablespoons of your favorite Mount Dora Olive Oil Company Balsamic VinegarHere are some suggestions: Honey GingerPomegranate-QuinceLemongrass MintPineappleCoconutBlackberry GingerStrawberryRaspberryTangerineI also like to add some fresh mint or basil leaves!
3/4 cup of Mayo or Greek Yogurt3/4 cup of Sour Cream1 teaspoon of Tuscan Herb Olive Oil1 teaspoon of dried or fresh parsley1 teaspoon of chives1 teaspoon of minced garlic1 teaspoon of onion powder1/2 teaspoon of Oregano White Balsamic or Sicilian Lemon White BalsamicSalt and pepper to tasteWhisk all the ingredients together and serve with [...]
Ingredients:-1 Small cucumber-1 Apple, cored and cut into small pieces. You can peel the skin off if you prefer.-A handful of greens (spinach, kale, dandelion greens, beet greens, etc.)-1 Cup of water or coconut water-Juice from 1 lime-2 to 3 tablespoons of a high polyphenol extra virgin olive oilDirections:Peel the cucumber and the apples and [...]
Ingredients: 2 halibut fillets Kosher salt and freshly ground pepper2 tbs of Milanese Gremolata Olive Oil2 tbs of Sicilian Lemon White Balsamic1/4 cup finely diced shallot2 cloves of garlic, minced1 cup cherry tomatoes, halved1/2 cup white wine1 tps of unsalted butter1/4 cup slivered fresh basilDirections:Season the fish fillets with salt and pepper. In a nonstick fry pan [...]
Ingredients2 cups frozen blueberries1/3 cup Strawberry Balsamic1 fresh banana, cut up1 cup packed fresh baby kale1/4 cup High Oleocanthal UP Hojiblanca extra virgin olive oil2 Tablespoons chia seedsDirectionsSoak the chia seeds in 1/3 cup Strawberry Balsamic for at least 20 minutes prior to making the recipe. Add the soaked chia seeds, olive oil and banana [...]
Ingredients:1/2 a small seedless watermelon, small cubes 1/2 a red onion, diced 1 bunch of cilantro, chopped Juice from 1 lime 2 cloves of garlic, minced 1 jalapeño, diced 1 yellow bell pepper, diced 1 large cucumber, peeled and diced 2 tomatoes, diced 3 tablespoons of Basil Olive Oil 3 tablespoons of Strawberry Dark Balsamic Salt and pepperPreparation: In a large bowl, combine watermelon, red onion, garlic, [...]
Ingredients 1/2 cup garlic infused extra-virgin olive oil, divided1/4 cup finely grated parmesan cheeseKosher salt and freshly ground black pepper1 egg yolk1 tablespoon juice from 1 lemon4 anchovies1 teaspoon Worcestershire sauceDirections Combine egg yolk, lemon juice, anchovies, Worcestershire sauce and 1/4 cup parmesan cheese in the in a blender jar or container of a food processor and [...]